Why Is a Broken Crown Considered a Dental Emergency?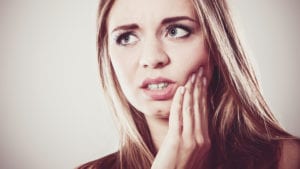 Posted on December 26, 2018
Dental crowns are extremely strong, and many times can last a lifetime for San Francisco patients. However, accidents can happen at any time, and a crown can become chipped or broken as a result. Sometimes the discomfort felt is enough to call an emergency dentist right away, but sometimes patients don't feel any difference. At the very least, a broken crown tooth should prompt patients to call their emergency dentist to explain what happened so a determination can be made whether immediate action is required. Here are some things to consider regarding broken crowns on the teeth.
How Broken Crowns Can Occur
Due to the strength of crowns, they typically won't break on their own, even though normal wear and tear over the course of many years can wear them down. Things like getting hit in the mouth with a ball, falling, severe teeth grinding or biting down on a hard item could chip or break a crown. Most of the time people in San Francisco will know right away if they've broken their crown because of the sensation they experience. Knowing what actions to take after breaking a crown gives people peace of mind and reduces any uncertainty about their dental health.
What to Do if a Crown Breaks
A call to an emergency dentist should occur immediately after a crown breaks. The emergency dentist will ask how the accident happened and exactly how the tooth feels. Depending on the answers, going to a dentist right away may be recommended. However, in some cases, the emergency dentist could suggest keeping the mouth as clean as possible until the next business day if the broken crown won't impact the patient's overall dental health right away. Not calling the emergency dentist or trying to repair or replace the crown without a professional's help, can lead to more significant problems that will require additional work and may even cause severe pain further down the road.
Related Post: 5 Common Reasons for Emergency Dental Care
When in Doubt, Call an Emergency Dentist
Everyone handles discomfort differently. Even if the pain felt is minimal following a broken crown, it's crucial to call an emergency dentist to tell them about your situation. A good emergency dentist like Dr. Skoulas is always available to answer questions, alleviate concerns and make recommendations based on the specific case. It's better to be safe than sorry and contact Dr. Skoulas right after a broken crown occurs, even if she deems the situation not to be an emergency.
Skoulas, DDS wants patients in San Francisco to live their desired lifestyles without having to worry about their teeth. That's why Dr. Skoulas is available around the clock to respond to dental emergencies. She is known as one of the top emergency dentists in the Bay Area because she always puts her patients first and prioritizes every call she receives.
If you experience a broken crown and aren't sure what you should do, call (415) 757-0110 for an emergency dentist who'll provide you with peace of mind about your dental health.
Recent Posts
Contact Us
Skoulas DDS - The SF Cosmetic Dentist
450 Sutter Street, Suite #1616
San Francisco, CA 94108
Monday | 9am - 6pm
Tuesday | 9am - 6pm
Wednesday | 9am - 6pm
Thursday | 9am - 6pm
Friday | 9am - 6pm
Saturday | Closed
Sunday | Closed