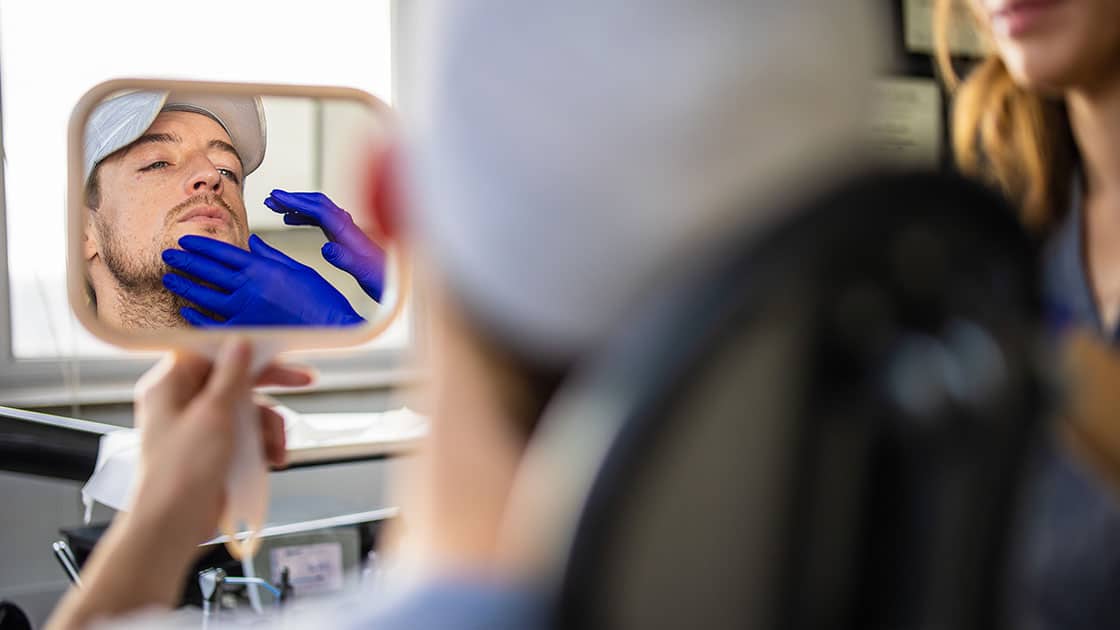 Skoulas DDS offers TMJ treatment in San Francisco, CA. For more information or to make an appointment, please call our office at
415-757-0110
.
What is TMJ Treatment?
TMJ, or temporomandibular joint disorder, is an increasingly common dental condition that causes myofascial and muscle pain in the jaw joint, face, neck, and shoulder.
Patients who have TMJ often experience a negative impact on their quality of life, as the condition makes it challenging to eat, sleep, and relax.
Causes of TMJ
TMJ disorders sometimes have no clear cause. Strained jaw joints may cause TMJ pain. Overusing the surrounding muscles may be a problem, sometimes stemming from bruxism (teeth grinding).
Neck, jaw, or head trauma can cause TMJ, along with arthritis and disk displacement. Physicians associate certain medical conditions like fibromyalgia with an increased risk.
Types of Treatment Offered
Management Techniques
Dentists can manage most cases of TMJ conservatively. Techniques include relaxation, massage, and stretching exercises.
In addition to seeking professional dental care, a patient can alleviate some symptoms using self-care methods:
Relaxing the jaw and developing the habit of resting with the teeth apart
Ice packs
Eating soft foods
Avoiding chewing gum
Avoiding opening the mouth too wide
Getting regular exercise
Wearing a dentist-prescribed night guard (not an over-the-counter sports guard)
Botox for TMJ
Dentists may also use Botox to relieve the symptoms of TMJ. The injected medication relaxes muscles through minimizing the overuse of the facial muscles.  This can relieve pain, tenderness, or soreness muscularly.
Custom Oral Appliances
If a patient's TMJ pain does not respond to the above treatments, Dr. Skoulas works with trusted local professionals who can dive deeper into the cause of the TMJ pain.  She can then create a custom oral appliance based on the diagnosis.
Surgery
In severe cases, patients may need surgery on the jaw joints.
Signs You Need TMJ Treatment
Frequent headaches
Pain in the shoulders, neck, or back
Facial swelling
Pain in the jaw joint
Pain in the ear
Pain in the face
Jaw locking
Unable to fully open the mouth without pain
Why Choose Skoulas DDS?

We provide high-quality dental care in an elegant but relaxed setting. Our office staff is friendly and communicative, and we offer many dental services under one roof. Our award-winning care brings patients from all over the surrounding area.
Frequently Asked Questions About TMJ Treatment
Can TMJ treatment stop my headaches?
Headaches have many causes. Stress frequently causes teeth clenching, leading to excessive TMJ joint pressure. Headaches, pain, and muscle spasms may result. Stopping the cycle created by teeth clenching can help with TMJ-related headaches.
How does a dentist diagnose TMJ?
The dentist will perform a complete exam to check for swelling around the jaw joint. This involves a clinical in-person exam, as well as a radiographic exam. They may take X-rays or CT scans to evaluate joint damage and irritation.
Can untreated TMJ affect my overall health?
TMJ negatively impacts your quality of life. It can limit your eating habits, change your body posture, cause premature tooth wear, compromise your airways, cause muscle soreness, and have many other effects on your general health.
Call Skoulas DDS
If you believe you have TMJ, don't wait to seek treatment. The problem can compound itself over time, so early treatment presents a significant advantage. Call our office at 415-757-0110 to schedule a diagnostic appointment and start treatment.