Porcelain Crowns: Quality Replacements That Last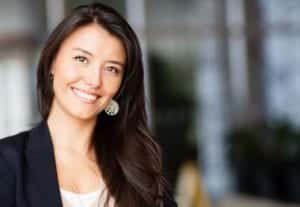 Posted on March 22, 2016
While most SF patients routinely have cavities filled, a dental crown is a more permanent fix for teeth vulnerable to tooth decay. Dr. Skoulas suggests porcelain crowns for patients whose teeth are:
Weak and cracked.
Broken or worn down.
Replaced with a dental implant.
Decayed more extensively.
Shaped or colored differently than other teeth.
Crowns exemplify one of the best ways to restore the look and feel of your natural teeth while preserving the underlying structure of your teeth.
What Is the Best Type of Crown?
A dental crown, much like a filling, can be made of different materials. Traditionally, crowns were made of metal or stainless steel so that they would last longer. However, these crowns are obvious compared to other teeth because of their metallic color and are not the best cosmetic option. Dr. Skoulas recommends porcelain crowns to her SF patients who want to:
Seamlessly blend their crown with the rest of their teeth.
Protect their teeth from additional damage.
Reinforce their tooth structure.
With proper dental hygiene, porcelain crowns can surpass the strength of metallic crowns and are comparable in strength to gold crowns due to their ability to be chemically bonded to the tooth structure instead of being limited to mechanical retentive properties. These characteristics help protect your tooth from further decay and keep your smile intact.
Comfort and Quality Care in the Heart of Downtown
As a cosmetic and general dentist, Dr. Skoulas understands your need to maintain a healthy smile and receive outstanding patient care. She has evolved a modern practice with several different anesthetic options and procedures that prioritize keeping you comfortable and achieving excellent results.
If you need a porcelain crown, call Dr. Skoulas' SF office at (415) 757-0110 to schedule an appointment for treatment today.
Recent Posts
Contact Us
Skoulas DDS - The SF Cosmetic Dentist
450 Sutter Street, Suite #1616
San Francisco, CA 94108
Monday | 9am - 6pm
Tuesday | 9am - 6pm
Wednesday | 9am - 6pm
Thursday | 9am - 6pm
Friday | 9am - 6pm
Saturday | Closed
Sunday | Closed