4 Reasons Why Invisalign is a Better Option Than Metal Braces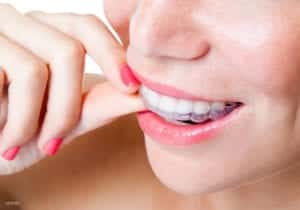 Posted on August 22, 2019
Whether you have tooth alignment issues that were never addressed in adolescence, or you have a pre-teen or teen or who needs his or her teeth straightened out, there's no more popular solution to do so today than Invisalign. Our San Francisco cosmetic dentists offer this tooth straightening solution in their San Francisco Practice, and it's become more and more common among adults and adolescents alike.
What is Invisalign?
An alternative to traditional metal braces, Invisalign is a series of clear teeth aligners that gradually straighten out teeth and address teeth gasps. Gone are the mouth cuts common with metal braces, as well as the "metal mouth" jokes of yesterday!
Why Patients Choose Invisalign Over Metal Braces
There are several reasons why cosmetic dentistry patients – especially busy professionals – choose Invisalign over metal braces. Here are 4 reasons why Invisalign is a better option for you over metal braces.
1. Invisalign is More Discreet than Metal Braces
Many professionals who have issues with tooth crowding or gaps in their teeth want to address their cosmetic issues in the most discreet manner possible. Let's be real. Metal braces stick out like a sore thumb. But since Invisalign clear aligners are totally clear, they are definitely less noticeable than the metal braces that were only available in the past.
2. Invisalign Clear Aligners Can be Temporarily Removed While You Enjoy Your
Favorite Foods
One of the most common complaints about metal braces is that food gets stuck in them. And it can take hours for you to notice (or for someone to politely point out the issue). But since Invisalign aligners can be temporarily removed while you eat your favorite foods, there's no risk of food debris getting stuck in them!
3. Invisalign Treatment Can be as Fast as Only 6 Months
Patients who need a teeth straightening option want the process to go as quickly as possible. With Invisalign, it's possible your treatment will last as little as 6 months. While some patients require longer treatments – up to 18 months – Invisalign generally addresses cosmetic issues faster than metal braces.
4. Invisalign Treatment is More Comfortable than Metal Braces
Metal braces are notorious for hurting and leaving sores in your mouth – sometimes wounds that just won't heal because your braces keep rubbing up against them. Invisalign is different. These aligners don't cut into your mouth and are much more comfortable for San Francisco residents to wear.
Find Out if Invisalign is Right for You
Invisalign can help most San Francisco residents, but unfortunately not everyone. Some patients with more difficult to treat cosmetic dental issues will require metal braces.
To find out if Invisalign is right for you, call San Francisco dentist Dr. Skoulas to schedule an appointment. During this consultation, she'll evaluate your teeth and determine which tooth correction system is right for you and your unique case. She can even spell out the pros and cons of choosing Invisalign or metal braces, so you can make an informed decision.
To schedule an appointment with Dr. Skoulas today, call her dental practice at (415) 757-0110.
Recent Posts
Contact Us
Skoulas DDS - The SF Cosmetic Dentist
450 Sutter Street, Suite #1616
San Francisco, CA 94108
Monday | 9am - 6pm
Tuesday | 9am - 6pm
Wednesday | 9am - 6pm
Thursday | 9am - 6pm
Friday | 9am - 6pm
Saturday | Closed
Sunday | Closed