Improve Your Smile With Porcelain Veneers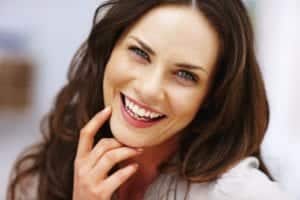 Posted on July 6, 2016
You don't need to be born with perfect teeth or spend thousands of dollars on braces to get that fabulous movie star smile you've always wanted. If you have uneven, discolored, or crooked teeth, you might be a perfect candidate for porcelain veneers. San Francisco patients who want a brighter, straighter, and more confident smile can get instant, breathtaking results with simple and affordable veneers.
We know if you have crooked or discolored teeth that it can keep you from smiling or even opening your mouth to enter a conversation. Dr. Skoulas loves helping patients feel good about how they look and have the confidence to speak their mind. If you want to get a beautiful, bright white smile without having to spend months in braces, call at our offices at (415) 757-0110 to set up a consultation.
We have put together some information for patients who are thinking about getting porcelain veneers and have questions about how it works and what kind of results they can expect.
What Exactly Are Porcelain Veneers?
Porcelain veneers are thin, tooth-shaped "shells" that attaches to the front of your natural tooth. Before applying the veneers, your dentist will buff away a micro-millimeter of your natural tooth to expose the enamel underneath.
Next, your dentist will use a strong adhesive to glue the veneer to your tooth. The adhesive forms a powerful bond with your tooth's enamel and the result is a bright, even smile instantly after your treatment.
The treatment itself will only take a few hours and can be split it into two procedures if you want to schedule a lunchtime appointment or come in before or after work. San Francisco is a busy place and we know our patients have limited time. Contact us today and we can set up a time that fits in your schedule.
Can I Repair Damage to My Teeth With Veneers?
If your teeth have structural damage then a veneer may not be the best option. Veneers are a purely cosmetic procedure and are designed to provide you with the combined result of teeth whitening and teeth straightening without the high cost or lengthy time investment.
Patients who want to restore the structure of their teeth would need one or more of the following:
A crown to place over the tooth and protect a tooth weakened by decay.
A bridge and crown to replace a missing tooth.
A dental implant to restore a missing tooth and root.
During your consultation, Dr. Skoulas will review your cosmetic goals and perform an examination to find a treatment plan that combines cosmetic improvements with restoration.
Alternatives to Porcelain Veneers
Outside of veneers, patients who want to improve their smile have a few other options:
Teeth whitening with trays that use a safe whitening gel.
Invisalign braces to straighten teeth discretely using trays that gradually shift your teeth into alignment.
A combination of whitening and Invisalign can achieve the same effect as porcelain veneers. San Francisco patients can get a bright, even smile using these methods as well.
If you're not happy with how your teeth look because of their color, shape, or alignment, call Dr. Skoulas today to find out more about our porcelain veneers. San Francisco patients can contact our offices at (415) 757-0110.
Recent Posts
Contact Us
Skoulas DDS - The SF Cosmetic Dentist
450 Sutter Street, Suite #1616
San Francisco, CA 94108
Monday | 9am - 6pm
Tuesday | 9am - 6pm
Wednesday | 9am - 6pm
Thursday | 9am - 6pm
Friday | 9am - 6pm
Saturday | Closed
Sunday | Closed