How to Prevent Tooth Discoloration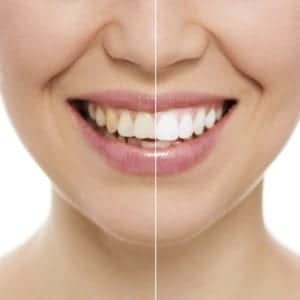 Posted on July 3, 2017
It is normal that after a couple of years, our teeth start to become a little yellowish and less bright. Although we all start off with pearly white teeth, over time and eating various foods; our teeth become a bit discolored. For some San Francisco patients, the change in aesthetic can be a bit discouraging. Having yellow teeth is never appealing for anyone and can actively affect you in your everyday life. When your smile is radiant and white, it is easy to feel confident and beautiful when smiling and laughing. But for those who have a less than perfect smile, it can make patients feel insecure and shameful when they want to smile.
At Dr. Skoulas, we believe everyone should shine as brightly as they can. That's why at our San Francisco office, we provide exceptional aesthetic dentistry to help solve tooth issues including discoloration. While we are happy to correct any dull colored teeth you may be unhappy with, we recommend preventing tooth discoloration in the future as well. If you know what causes the issue, it's easy to prepare and protect yourself from getting yellow teeth over time. As aesthetic dentistry professionals, these are some of our top tips for preventing tooth discoloration.
Maintaining a Healthy Diet and Lifestyle
Having a healthy diet and lifestyle can play a big role the health of your teeth. If you are excessively stressed, you can speed up the aging process of your entire body. Naturally, our teeth will age with us as the rest of our body ages, which is a fact of life. As this happens, it is unavoidable that teeth will become somewhat yellow over the years. Research has shown, however, that keeping a healthy, stress-free lifestyle can help slow down this process.
Wear a Night Guard
One of the leading causes of tooth discoloration is from teeth grinding, or bruxism. The constant clenching of your teeth actually causes your teeth to age prematurely. As a result, you end up putting extra force on your teeth which results in a more yellowish color. This may be signs of your enamel totally worn through and the underlying dentin exposed. Dentin is more yellow in color. Most San Francisco patients don't realize how serious bruxism can be. But it can be dangerous if left untreated, to your dental health and oral aesthetic.
Refrain from Stain-Inducing Foods and Beverages
Of course, the obvious suggestions for keeping your teeth bright and white are cutting out stain-inducing foods and drinks. Coffee, tea, wine, soy sauce, and berries are all common contributors to the problem for San Francisco patients. These do affect your teeth if you consume these products excessively. It is okay to eat or drink these foods or beverages in moderation. Aesthetic dentistry recommends patients just keep these types of foods to a minimum.
Are your teeth a bit discolored? If you want to treat this issue, call us today and get one step closer to whiter, amazing teeth. Call our aesthetic dentistry professional Dr. Skoulas and set up an appointment to get started on a brighter smile today.
Recent Posts
Contact Us
Skoulas DDS - The SF Cosmetic Dentist
450 Sutter Street, Suite #1616
San Francisco, CA 94108
Monday | 9am - 6pm
Tuesday | 9am - 6pm
Wednesday | 9am - 6pm
Thursday | 9am - 6pm
Friday | 9am - 6pm
Saturday | Closed
Sunday | Closed