How Long Do Porcelain Crowns Last?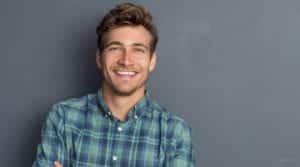 Posted on December 11, 2017
One of the most versatile and common dental procedures is a dental crown. San Francisco men and women that suffer from a wide range of different dental ailments can get beautiful, fast, and effective relief with dental crowns. One of the many questions that we get about dental crowns is how long patients can expect them to last.
If you're suffering from dental pain, or if your gums are sore, red, and bleeding, make sure that you call Dr. Skoulas today at (415) 757-0110. When you call, you'll always be greeted by one of our friendly and well-trained staff. Getting calls from new patients is something we look forward to. We're happy to answer your questions, talk with you about your concerns, and setup an appointment for you to come into our modern and conveniently located offices in the financial district.
What Is the Lifespan of a Porcelain Crown?
San Francisco patients often tell us that having a bright, healthy, and shining smile is one of the most important parts of their success. They love knowing that they can walk into a room or speak up in a meeting without having to worry about hiding their teeth. Porcelain crowns offer life-like appearance, they're strong enough for chewing, and they can be color matched to the rest of your teeth. But how long do they last?
Crowns should last at least 5 years. But with good care, proper cleaning, and by avoiding certain habits like nail biting, crowns can last between 5 and 15 years. Some crowns can last between 25 and 30 years. It really all depends on how well the patient cares for their crowns. In some cases, porcelain crowns can last a lifetime.
Even though porcelain is strong, stain-resistant, and natural-looking, it is not indestructible. Some of the main reasons why porcelain crowns need to be replaced include:
Grinding teeth – Bruxism is the medical term for grinding your teeth at night. It is the most common cause of cracking or breaking a porcelain crown.
Misuse – If you use your teeth to open packaging or if you often eat hard foods like ice, these can also damage porcelain crowns.
Why Use Dr. Skoulas for Your Porcelain Crown
San Francisco patients absolutely love their experience with Dr. Skoulas You can take a look at our Reviews Page to see for yourself. Not only is Dr. Skoulas kind, compassionate, and gentle, but she is also totally transparent. You'll always know exactly what is going on at every step of your treatment. We have a variety of anesthetic options available, and our patients can enjoy Netflix or Spotify at all of our dental stations to help them relax.
On top of all that, Dr. Skoulas is also a member of some of the most prestigious dental associations, including the American Dental Association, Academy of Operative Dentistry, and American Academy of Cosmetic Dentistry. She is also a lecturer at the UCLA school of dentistry.
If you need a porcelain crown, San Francisco patients need look no further than Dr. Skoulas. Give us a call today at (415) 757-0110.
Recent Posts
Contact Us
Skoulas DDS - The SF Cosmetic Dentist
450 Sutter Street, Suite #1616
San Francisco, CA 94108
Monday | 9am - 6pm
Tuesday | 9am - 6pm
Wednesday | 9am - 6pm
Thursday | 9am - 6pm
Friday | 9am - 6pm
Saturday | Closed
Sunday | Closed