Gum Problems during Menopause: Consult a Dentist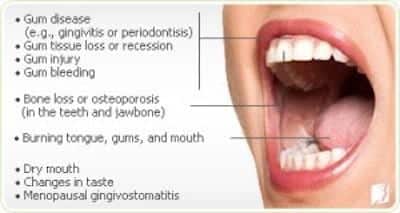 Women are at a greater risk of dental problems, including gum problems, during menopause and other times of hormonal fluctuation. This is most commonly associated with changes in estrogen levels in the body and, in the case of menopause, the natural aging process.
If a woman experiences these or any other abnormal gum problems during the menopausal time, it is a good idea for her to speak with her dental care professional or primary care physician.
While a visit to the dentist's chair is usually the only sure way to determine the cause of gum problems, it is very important to first become informed of the possible causes of gum problems, especially during menopause.
Just one more reason not to skip your next dental appointment. So contact us today to schedule your consultation!
Recent Posts
Contact Us
Skoulas DDS - The SF Cosmetic Dentist
450 Sutter Street, Suite #1616
San Francisco, CA 94108
Monday | 9am - 6pm
Tuesday | 9am - 6pm
Wednesday | 9am - 6pm
Thursday | 9am - 6pm
Friday | 9am - 6pm
Saturday | Closed
Sunday | Closed