Foods That Protect Teeth from Decay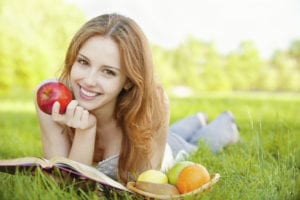 Posted on May 11, 2017
Everyone likes to indulge every once in a while when it comes to food. Whether it's by allowing yourself to binge on some french fries, snack on sugary candies, or by treating yourself to some chocolate sweets. Actually, allowing yourself to enjoy little rewards is good for your mental health. However, when it comes to maximizing those indulgences, it can affect your dental health long-term. We all know that eating too many sweets and sugary foods can result in cavities. But when it comes to preventing these aesthetic dentists know there is a way to fight against tooth decay.
What most San Francisco patients don't realize is that by choosing certain foods to eat, you can actually help prevent tooth decay. At Dr. Skoulas, our aesthetic dentist specialists do intensive research so that we can help our patients make informed decisions. When it comes to eating foods that can help bring your dental health to a new level, we strive to provide you with the best information possible. Here is a list of the foods San Francisco patients can incorporate into their diet to actually help prevent teeth from decaying:
Fruits: Although this may seem like a given, eating healthy fruits is very helpful in fighting against tooth decay. This is because certain fruits are usually high in fiber, which is a good way to help fight against decay. Examples of food you can eat include bananas, oranges, and apples.
Vegetables: Similar to fruits, there are a lot of vegetables that are also excellent cavity fighters. Foods such as brussel sprouts and peas work against tooth decay because of the fiber they provide.
Whole Grain Foods: Because of the vitamins contained in whole grain foods such as wheat bread or brown rice, these types of foods are beneficial to your health. These foods also contain magnesium, which is necessary for healthy teeth.
Foods high in calcium: Eating foods such as cheese and yogurt can also be effective in fighting against cavities. There's a certain protein in cheese called casein that actively protects your teeth. Because your teeth are made of calcium, increased calcium levels help to prevent cavities.
Sugar-free gum: If you chew gum with sugar, you're likely to cause more cavities. However, sugar-free gum is a good way to help reduce tooth decay. The chewing of gum can help prevent plaque from building up on your teeth.
These are all basic examples of foods that are great in fighting against tooth decay. They help protect your teeth because of the basic nutrients and vitamins they supply. Aesthetic dentists know how important it is to have a bright, healthy smile. By choosing foods such as these, San Francisco residents can ensure that their smile is radiant and cavity-free.
For San Francisco patients who want more information on how to protect your teeth from decay, please call us today at (415) 757-0110. Aesthetic dentist Dr. Skoulas would love to help you with any questions or concerns you may have.
Recent Posts
Contact Us
Skoulas DDS - The SF Cosmetic Dentist
450 Sutter Street, Suite #1616
San Francisco, CA 94108
Monday | 9am - 6pm
Tuesday | 9am - 6pm
Wednesday | 9am - 6pm
Thursday | 9am - 6pm
Friday | 9am - 6pm
Saturday | Closed
Sunday | Closed