Do Whitening Toothpastes Really Work?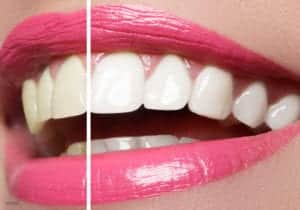 Posted on October 3, 2019
Advertisements for whitening toothpastes seem too good to be true. For a relatively inexpensive cost, you can avoid a cosmetic dentist and professional tooth whitening system altogether by using a special toothpaste designed to make your teeth whiter! But do these whitening toothpastes really work?
According to the Mayo Clinic, for most dental patients, whitening toothpaste claims really are too good to be true. While these toothpastes can slightly remove surface-stains caused by habits such as drinking coffee or smoking tobacco products, they can't address teeth that are naturally more yellow, or deeper teeth stains.
If you're seeking true teeth whitening that makes your teeth bright and white, your best bet is to find a cosmetic dentist. And when it comes to searching for one, there's no one better for the job than our doctors. In fact, as part of her dental practice, she regularly performs teeth whitening on her Bay Area patients.
How Does a Cosmetic Dentist Whiten Teeth?
Beyond the promises of slight whitening from the "whitening" types of your favorite toothpaste brand, a cosmetic dentist can offer assistance that makes your teeth shine and sparkle.
When you trust our San Francisco cosmetic dentists for teeth whitening, she can help you:
● Whiten your teeth by up to 2 shades lighter
● Provide teeth whitening service in about an hour
● Enable you to see immediate results
While tooth whitening toothpaste can take up to 6 weeks to provide slight improvements, a cosmetic dentist can provide real results in just an hour. Why wouldn't you choose to go with her?
Why Do Teeth Need to Be Whitened?
All patients want to be able to flash their pearly whites, but for some, certain issues get in the way of them having the brightest smile possible. These include:
● Genetics that make teeth naturally more yellow
● Age, as tooth enamel naturally begins to turn yellow
● Habits such as smoking or drinking coffee or consuming other staining food and beverages
● Trauma to teeth, even if it occurred years ago, can result in teeth changing colors in the future
Alternatives to Teeth Whitening and Whitening Toothpastes
Usually, everyone's favorite reason – genetics – can cause you to be ineligible for teeth whitening. Other times, previous trauma to teeth can be so severe, that even teeth whitening services from a cosmetic dentist can't help a San Francisco resident obtain the bright smile he or she desires.
In these cases, your best bet is often to choose porcelain veneers or crowns to either match the whiteness of existing teeth (in the case of tooth trauma) or to provide the brighter smile you've always desired.
Contact our San Francisco Practice for a Teeth Whitening Evaluation
Whether your best course of action to achieving the smile you desire is regular teeth whitening, or the placement of porcelain veneers or crowns, only a visit with a San Francisco cosmetic dentist can tell you for sure.
To find out which options are suited for you and your unique case, contact our San Francisco dental practice today. After an evaluation by Dr. Skoulas, you'll know which whitening solution is ideal for you – and we promise it'll be better than what you can buy at the drugstore, grocery store, or big box store you frequent.
To schedule an appointment, call our practice in San Francisco today at (415) 757-0110.
Recent Posts
Contact Us
Skoulas DDS - The SF Cosmetic Dentist
450 Sutter Street, Suite #1616
San Francisco, CA 94108
Monday | 9am - 6pm
Tuesday | 9am - 6pm
Wednesday | 9am - 6pm
Thursday | 9am - 6pm
Friday | 9am - 6pm
Saturday | Closed
Sunday | Closed