Creating a Beautiful New Smile with Veneers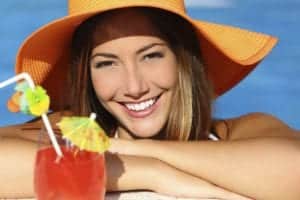 Posted on June 15, 2018
When asked to describe a beautiful smile, people all over the world agree that an attractive smile is a harmonious combination of clean, white teeth that are perfectly aligned and proportionally balanced. Although the majority of the population are in consensus about what a beautiful smile looks like, it is an unfortunate fact that most people have some damage to their teeth, some of which is noticeably unattractive. For patients in the financial district of San Francisco who are unhappy with how their teeth make them feel and look, veneers are a fast and easy way to achieve a stunning new smile.
Types of Damage Veneers Can Correct
Dr. Skoulas treats her veneer patients in the financial district of San Francisco with the use of the finest quality materials to create the thin, wafer-like pieces of porcelain that cover unattractive dental issues and replicate flawless and natural-looking teeth. There are a variety of aesthetic problems that can be correcting with veneers, such as:
Poorly colored, stained teeth.
Misshapen, irregularly sized teeth.
Teeth that have gaps and spacing problems.
Teeth with chips or cracks.
Worn down, "flat looking," teeth.
Uneven or crooked
The Art Behind the Science
To create something that is truly beautiful, an artist must have the best tools available along with the finest quality materials. But the artist's skills and natural ability are essential for superior results. Dr. Skoulas' patients in the financial district of San Francisco are busy professionals who expect outstanding results. A gifted cosmetic dentist combines science and artistry to create veneers that look completely natural and have a translucent luster.
Why a Mesmerizing Smile Matters
Men and women who do business in the financial district of San Francisco understand that every last detail counts in our competitive atmosphere. The vibrant energy that makes this part of California so incredible lures the best, and the brightest minds. So, standing out for the "right," reasons is necessary if you want your career and social life to flourish. When you wake up in the morning and prepare for your busy day, it's likely that you make sure that you look your best – but if your smile betrays you, it is time to make a change. If your health and mental well-being are balanced, it stands to reason that all aspects of your life will fall into place. Meaning, if you feel great about your appearance – especially your smile, it shows up as confidence that opens up a whole new realm of opportunities in your life.
Strategy, Beauty, and Veneers
Yes, absolutely. You can guarantee that veneers are your ticket to a killer new smile that can take you places that may be inaccessible to you now. We welcome our savvy and sophisticated patients in the financial district of San Francisco to check out our before and after pictures to get a better idea of why Dr. Skoulas' artistic skill combined with today's cutting-edge technology is a strategy for success.
To get the dynamite new smile of your dreams, call us today at (415) 757-1001.
Recent Posts
Contact Us
Skoulas DDS - The SF Cosmetic Dentist
450 Sutter Street, Suite #1616
San Francisco, CA 94108
Monday | 9am - 6pm
Tuesday | 9am - 6pm
Wednesday | 9am - 6pm
Thursday | 9am - 6pm
Friday | 9am - 6pm
Saturday | Closed
Sunday | Closed