Cavity Symptoms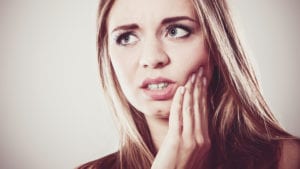 Posted on July 13, 2017
Having a cavity can be a pretty unpleasant experience for anyone. One of the worst parts about having a cavity is that you may experience little to no symptoms and not even know that you have one. This is a bad situation because without knowing you have one, you will probably leave your cavity untreated for a long period of time. If this happens, your cavity will worsen over time leading to terrible dental problems and ruined teeth. At Dr. Skoulas, we don't want that to happen to any of our San Francisco patients.
That's why it's crucial to know the various signs and symptoms of cavities so that you can get dental fillings right away. The main reason San Francisco patients receive cavities are due to tooth decay over time. Getting a cavity could be due to your diet, lack of brushing your teeth, or improper flossing. Whatever the reason is, you might feel a slight sensitivity and may have a cavity. Depending on the severity of your cavity, your symptoms can be mild or extreme. It's imperative to know the signs so that you can be treated immediately and receive dental fillings. At our San Francisco office, we've come up with some of the most common symptoms of cavities:
Toothache or Tooth Pain
The first sign you might recognize is having tooth pain in an isolated area of your mouth. You might feel a slight sharp pain or even extreme pain. When you have a cavity, your tooth is actually slowly decaying from the inside. Because of this, it's normal that you will experience a bit of discomfort. Depending on how far along your cavity has developed, your pain levels will be different. For most San Francisco patients, a slight but noticeable pain is usually a sign that they have a cavity.
Pain When Biting or Chewing
When you start to have trouble eating certain foods, you might need dental fillings. This pertains specifically to particular foods that you might have difficulty eating. Do you feel pain when you bite down? Are you purposely staying away from harder, crunchier foods? These are things to consider when you are eating to know whether or not you may have a cavity. If you are, these are pretty clear signs that you may need to see a dentist.
Tooth Sensitivity to Temperatures
When San Francisco patients have a cavity, they usually suffer from tooth sensitivity. This is when you consume something very hot or cold, and your tooth has a painful reaction to it. It's very common to experience this when you have a cavity because your tooth will be ultra- sensitive. Your teeth will also be affected if you consume sweet and sugary foods. If this is the case, it's very possible that dental fillings are needed.
At our San Francisco office, Dr. Skoulas provides various types of dental fillings for patients who suffer from cavities. If you feel that you have any of these early symptoms of cavities, call our office today to schedule an appointment. We'd love to hear from you and help with your dental needs.
Recent Posts
Contact Us
Skoulas DDS - The SF Cosmetic Dentist
450 Sutter Street, Suite #1616
San Francisco, CA 94108
Monday | 9am - 6pm
Tuesday | 9am - 6pm
Wednesday | 9am - 6pm
Thursday | 9am - 6pm
Friday | 9am - 6pm
Saturday | Closed
Sunday | Closed