7 Ways Veneers Can Correct Your Smile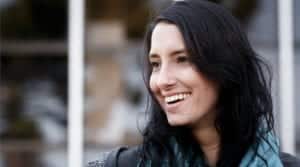 Our teeth can be a source of pride and self-confidence, but they can also be aesthetically unattractive, distracting, and embarrassing. Nobody is gifted with 100% perfect teeth, and unfortunately, more people than not have some degree of dental damage that they are very unhappy with. Even if you were lucky enough to have good teeth as a child, as we age it's inevitable that dental flaws will begin to show up. Dental veneers are a fast and effective way for patients to get the smile of their dreams. These thin, wafer-like porcelain shells create natural looking, symmetrical smiles for patients in San Francisco's financial district.
Smile Corrections
Having an attractive, healthy smile impacts our personal lives as well as our careers. If your smile needs a make-over, veneers offer patients in San Francisco's financial district a chance to correct a few or many imperfections all at once. Take a minute to learn how veneers can make your smile dazzling.
Rebuilding worn down teeth. Some men and women in San Francisco's financial district tend to clench or grind their teeth even when they are sleeping. Teeth grinding, known as bruxism, causes teeth to become "flat," appearing as if they've been filed down. Veneers cover and protect worn teeth, and they also rebuild them back to their normal shape.
Fixing chipped or broken teeth. Our teeth are very strong, but accidents can happen that chip or break part of one or more teeth. Veneers are a fantastic way to fix a broken smile because they repair the appearance of the teeth while restoring functionality.
Filling in the gaps between your teeth. Gapping can occur anyplace in the mouth although it is usually most noticeable between the top two front teeth. San Francisco's financial distract patients are pleasantly surprised when the gap that has bothered them for years becomes undetectable after they're veneers are placed.
Whitening and brightening teeth that are discolored. San Francisco's financial district patients who have discolored, stained teeth that don't respond well to teeth whitening procedures are excellent candidates for veneers. Veneers maintain their white and lustrous sheen and will not change color.
Correcting teeth that are misshapen or irregularly shaped. Veneers are a great way to correct teeth that have bulges or craters and other anomalies that interfere with symmetry. Some patients have teeth that grow too short or too long. When layered on top of their natural teeth, veneers can even out both the length and the shape of abnormal teeth.
Straightening teeth that are crowded. Using veneers to correct teeth that are out of alignment is becoming a popular choice for people in the financial district of San Francisco who are looking to adjust their smile without the use of other, much more time-consuming options.
Restoring worn down teeth. Some people in San Francisco's financial district grind or clench their teeth. Teeth grinding, also known as bruxism, causes teeth to wear down over time – often appearing to be "filed" flat. Veneers rebuild the structure of worn down teeth.
Veneers enhance your self-esteem. We've saved the best for last. No matter why you are considering veneers; an amazing new smile will give you a terrific boost in confidence because we all know that when you look great, you feel great.
Take Advantage of this Transformative Procedure
Don't let damaged; unhealthy teeth interfere with your life any longer. Call (415) 757-1001 today to find out how Dr. Skoulas uses veneers to craft an entirely new smile for her patients in the financial district of San Francisco.
The post 7 Ways Veneers Can Correct Your Smile first appeared on Skoulas DDS - The SF Cosmetic Dentist.
Recent Posts
Contact Us
Skoulas DDS - The SF Cosmetic Dentist
450 Sutter Street, Suite #1616
San Francisco, CA 94108
Monday | 9am - 6pm
Tuesday | 9am - 6pm
Wednesday | 9am - 6pm
Thursday | 9am - 6pm
Friday | 9am - 6pm
Saturday | Closed
Sunday | Closed