5 Simple Steps To Handle A Knocked-Out Tooth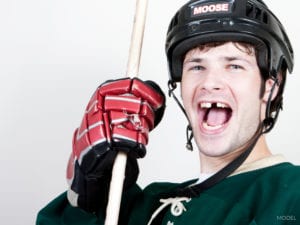 Posted on October 16, 2017
178 million Americans are missing at least one tooth–that's over half of all US citizens. While missing teeth might be fairly common, many patients may not be aware of the best way to handle having a tooth knocked out of their mouth. In this blog post, we want to lay out 5 easy tips for dealing with having your tooth knocked loose.
The good news is that even if you do have a tooth knocked out, you can easily get a gorgeous, natural-looking replacement that is virtually indistinguishable from your other teeth. Just call Dr. Skoulas today at (415) 757-0110 to get treated by a 24-hour dentist. San Francisco patients can get fast, gentle, and effective treatment and be back to normal in no time.
5 Tips for Dealing with a Lost Tooth
When you get a tooth knocked out, it can be incredibly traumatic. But the good news is that it can sometimes be replaced. The important thing is to make sure you call a 24-hour dentist. San Francisco patients can read below to learn about 5 things that you can do deal with a lost tooth.
Be gentle – If you can find the tooth that was knocked out, handle it with extreme care. Only touch it by the crown (the part you chew with). Do not touch it by the root or base of the tooth.
Clean if needed – If the tooth landed in the dirt, sand, or anything else that may be stuck to it, rinse it off with water or milk. Do not scrub it or touch the root or base of the tooth. Just rinse it off. Do not dry it or even pat it dry.
Put it back – As quickly as possible, try to put the tooth back into its socket. This is the most effective way to preserve the tooth until you get to your dentist.
Store it – If you can't put the tooth back into its socket, keep it moist. Put it in a glass of whole milk if you can. If you don't have milk, water will do.
Get to your dentist – It's recommended to get to your dentist within 30 minutes so make sure you call Dr. Skoulas right away.
Dr. Skoulas Is Your 24 Hour Dentist
San Francisco is a gorgeous city with something to do at any hour of the day. We know that our patients love to take full advantage of everything the Bay Area has to offer. That's why Dr. Skoulas is there for you if you have a dental emergency late at night or early in the morning. All you have to do is call our office number at (415) 757-0110, and you'll be connected with Dr. Skoulas for immediate treatment.
On top of being a 24-hour dentist, San Francisco patients love how gentle and caring Dr. Skoulas is during all of their appointments. You can read through some of our reviews on our Reviews Page to learn more about what our patients think about Dr. Skoulas. We value transparency as the core of building long and lasting relationships with all of our patients.
Dr. Skoulas is a graduate of the Arthur A. Dugoni School of Dentistry. She is also a guest lecturer at the UCLA School of Dentistry. As a Bay Area-native, Dr. Skoulas understand our fast-paced way of life and is here for you whenever you need emergency dental services.
Recent Posts
Contact Us
Skoulas DDS - The SF Cosmetic Dentist
450 Sutter Street, Suite #1616
San Francisco, CA 94108
Monday | 9am - 6pm
Tuesday | 9am - 6pm
Wednesday | 9am - 6pm
Thursday | 9am - 6pm
Friday | 9am - 6pm
Saturday | Closed
Sunday | Closed