4 Measures to Prevent Most Dental Emergencies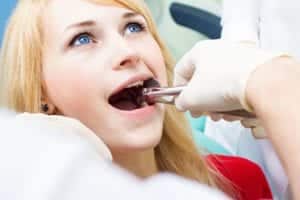 Posted on August 31, 2018
No one in San Francisco wants to go through a dental emergency, but the reality is one can happen when it's least expected. Having an emergency dentist in mind and knowing when to call can sometimes be the difference between saving a tooth or having to go through more extensive procedures. Dr. Skoulas is known in San Francisco as being a reliable emergency dentist patients can always trust to be available. However, most patients prefer never to have to call her in emergency situations. Here are four ways to help prevent the most common dental emergencies.
Think Before Chewing
Chewing on hard items like popcorn kernels, ice, hard candy or other similar things can create small cracks in the teeth. These cracks could create enough space for bacteria to grow and potentially cause an infection. So before putting these hard items in the mouth, think about the potential consequences. If the teeth strain to chew a particular item, it could lead to a call to an emergency dentist.
Use a Mouthguard During Activities
Almost any physical activity would be made safer by using a mouthguard. Participants in sports like football, soccer or basketball should always wear protective gear in their mouth, but even activities like biking can cause a dental emergency. These activities can create the need for an emergency dentist in San Francisco quickly, so wearing a mouthguard will go a long way in preventing cracked or damaged teeth while being active.
Don't Use Teeth as Tools
Using teeth to open packages is another common reason why an emergency dentist is needed. Teeth can be easily cracked, chipped or damaged during this action, and it's one of the easiest to avoid. Take a few extra seconds and find some scissors to open the package and never use teeth for anything other than chewing food.
Maintain Quality Oral Hygiene Habits
Keeping the teeth strong and healthy is the best way to prevent common dental emergencies. Brushing and flossing regularly are only the basics. Visiting the dentist on a regular basis to ensure any decay is addressed immediately, and any other potential issues are identified. Not having strong and healthy teeth can lead to the need for an emergency dentist in San Francisco even when doing routine activities.
Dr. Skoulas is an emergency dentist who is always there for her patients. Dental emergencies can occur at any time, so it's important to have Dr. Skoulas on speed dial to get the appropriate recommended course of action. Trying to deal with a dental emergency on your own can cause more harm than good, so rely on your emergency dentist to guide you. By keeping these tips in mind, we hope you never have to contact us in the event of an emergency.
But if one occurs, just know Skoulas, DDS is here for you around the clock, so give us a call at (415) 757-0110 any time.
Recent Posts
Contact Us
Skoulas DDS - The SF Cosmetic Dentist
450 Sutter Street, Suite #1616
San Francisco, CA 94108
Monday | 9am - 6pm
Tuesday | 9am - 6pm
Wednesday | 9am - 6pm
Thursday | 9am - 6pm
Friday | 9am - 6pm
Saturday | Closed
Sunday | Closed